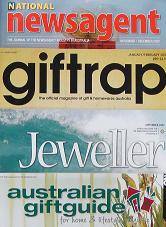 We have committed to regular advertising in in 2008 in five industry journals over the next six months in part to promote our business but also, and more importantly, to support our customers. Trade journals play an important role in the lives of our customers and it is appropriate that we the communication channel – they support industry associations and other work of value to our customers so it is appropriate we financially assist in this.
National Newsagent, Australian Jeweller, Greetings and Gifts, Giftwrap and Australian Gift Guide will carry Tower Systems ads throughout 2008.
While we have advertised in trade journals before, 2008 is the first year we have a budget allocation of this size across five trade journals at once. We are looking at a sixth so our reach may be extended.