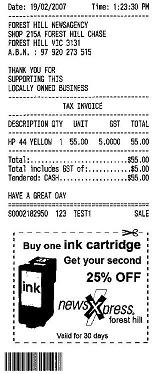 While our software has supported the printing of graphic coupons on receipts for years, only recently have some users engaged.
Coupons are a great free marketing opportunity – a small bit of real estate on a receipt with the right offer could lure customers back into the business.
Coupons are huge in the US, in businesses of all sizes. In supermarkets they have printers at the checkout dedicated to them. Done right, coupons could be as big here.
We are talking with a couple of suppliers who want to partner with retailers using our software on how they can have their offer pitched on coupons. It's easy.
Suppliers are key – they usually fund the offer, be it a rebate or percentage off. Being technology based, compliance and redemption are easy to track. This is where we are happy to help – anything which adds value for our customers is worthwhile – including tweaking our software to better serve the needs of all stakeholders.
Even without supplier support, coupons are easy to implement – create a coupon in paint or some other simple graphic software and in a few seconds you can have it printing on receipts, promoting your business to every customer who leaves with a receipt. Silent marketing which costs nothing. Amazing!