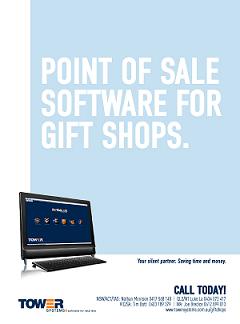 Our gift shop software has been a regular feature in the pages of Giftwrap and Greeting and Gifts over the years since we entered the gift shop marketplace.
Our latest ad pulls back from traditional software advertising and subtly reminds readers that we are gift shop software specialists.  we have made this change following advice received on our stand at the Melbourne and Sydney Gift Fairs.
Our gift shop software has evolved significantly thanks to suggestions from our customers and their suppliers.  The latest release strengthens the Tower Advantage TM offering to gift shop owners as it introduces several new exclusive facilities including better links between gift shops and their suppliers.
We are glad to have the opportunity to help evolve gift shop management.