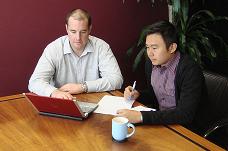 Gavin Williams, our General Manager, and Jonathan Tay, our Software Development Manager, met in our board room last week to plan in detail software enhancements for the second half of 2009. While many enhancements in our retail management software come from suggestions from our customer community, we like to introduce our own innovations, to pursue our points of difference within our software.
Tower Systems is fortunate to have Gavin and Jonathan guiding software development. Their leadership on the direction of our software reflects the teamwork approach we take. Providing them with time to discuss and debate software direction is a key factor in their professional development and in our success.
We are grateful to be of a size which enables us to rely on a leadership team rather than a single person.
In last week's discussion, Jonathan represented his development team and Gavin representedthe rest of the Tower team.