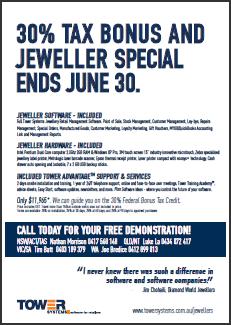 We are promoting the success of our jeweller software in helping jewellers achieve greater control over key parts of their business in our latest marketing.  From the stock room to the sales counter to customer relationship management, our jeweller management software helps jewellers with business specific facilities and reports.
We are grateful to the hundreds of jewellers who continue to work with us in guiding our software direction.  Without their input we would not have the jeweller software we have today.
Thanks to the investment allowance tax break from the federal government, our package deal our system is more attractive if purchased prior to June 30.  This is a key focus of our latest promotion.
This latest promotional material will hit the mail for jewellers around Australia on Monday.