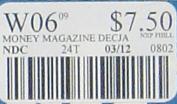 We won a sale last week on the strength of our magazine labels.  A newsagent was visiting a colleague and asked why his labels looked better – with more obvious and useful information.  After a brief pitch about the Tower newsagency software the visiting newsagent was on the phone to us.
As newsagents ourselves, we understand the importance of easy to read labels for magazines and other stock.  A good label makes it easy for you to make management decisions on the shop floor without having to get back to a computer terminal.
The label in the photo shows the name of the magazine, quantity received, sell price, type of return, supply date, return date, where to locate the title in store, the name of the business and the barcode to this specific issue.  While printing labels is not mandatory, having thisinformation on the product in the shop helps newsagents make better shop-floor decisions.
We print labels on sheets of 65.  The label stock cost is .2 of a cent each – making them economical. They are secure too – if you peel a laser label off and put it on a more expensive magazine it is unlikely to scan.
For POS Solutions users switching to us and who prefer to stick with the blaster printer, we happily support that technology for any newsagent as well – we have done for many years.
UPDATE (28/04): Congratulations to POS Solutions for announcing today that they will support laser printed labels.