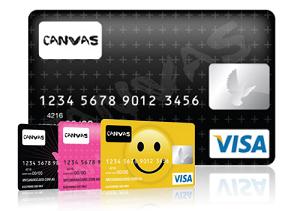 The prepaid Visa products available exclusively through Tower Systems – from our eziPass and point of sale software solutions.  The prepaid Visa products are driving some good success stories, especially in lower socio-economic areas. Customers can get a working Visa card without the need for bank approval. This allows them to shop in most stores which take Visa – the only exception right now being Coles and Woolworths from what we understand.  The Canvas card is the most popular prepaid Visa product we have.
Thanks to clever work by our software development team, the prepaid Visa is accessible directly from our software. There is no sign up or stock cost and marketing collateral is provided free of charge.
There are several types of customers purchasing these prepaid Visa cards: businesses for employee use, families for their children and as gift cards without the need to direct the purchase to a particular store.
In our won stores these prepaid Visa cards are working well, extending the basket – customers purchase other items with them.