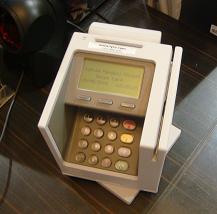 The swivel base eftpos pin pad we recommend for our point of sale software customers using the Tyro broadband eftpos service is popular.  Retailers and customers like its features.  The feedback we have received is excellent. We use this swivel base pin pad in several of our own retail shops and so have our own personal experience from which to draw.  It sits in the same location on the counter and is easily turned to a customer for PIN entry and back to the staff for processing.
I like this pinpad it for several reasons
It is secure for our customers.  PIN numbers are entered discretely.
The swivel base makes use easier for retailer and customer.
Less movement means less cable and other damage.
It is directly integrated with the point of sale software – meaning fewer keystrokes.
These points are important to streamlining the counter, especially since more transactions are being paid for through eftpos.  The easier, faster and more accurate we can make eftpos processing the better.