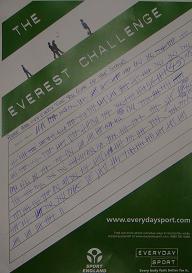 While a new elevator is installed over five weeks in the building in which we have our head Office – we own level 3 – we are running an Everest challenge by recording each time each of us climbs the stairs.  Our goal is to beat the last time we ran this challenge a couple of years ago.  Today, just over two weeks in, we are at 5,040 metres.  Everest is 8,846 metres.
We are using an excellent template from Sport England to track our results.
We are also running this campaign to highlight the health and environmental benefits for our team of using the stairs instead of the elevator to climb our three floors.  We further support the health message with free fruit, healthy option breakfast bars, a great selection teas and filtered water for refreshment.