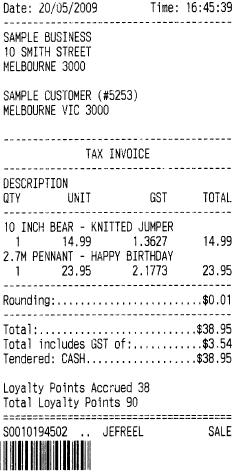 Retailers using our point of sale software are able to easily and efficiently account to loyalty club customers the points accrued in a sale and the total points available after the sale.  The receipt to the left is one example of a receipt showing this.  We offer flexibility in the value of points accrued by department and or category.  We also offer flexible in the value applied to receipts as currency.
We also offer transparency through loyalty club statements which can be sent if our retailers prefer this.
By giving customers this information in each sale, we help our retail partners demonstrate transparency to their customers.  This helps in their pitch when comparing their loyalty offer with much bigger retailers.  Loyalty programs run by national retail chains tend to offer lower value to consumers than those offered by the small business retailers we service.  This is certainly the case in our own retail businesses.
From our account managers through to our help desk our team is skilled in helping our retail community get the most from their loyalty marketing facilities.