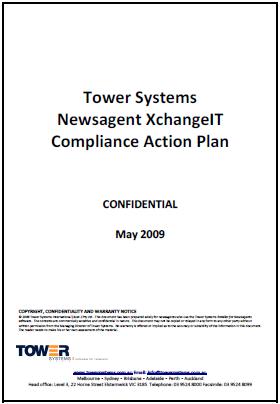 Nowhere is the difference between newsagent software companies more evident than in comparing their approach to the new XchangeIT platform.  Two months ago we published a draft revised compliance action plan.  Earlier this month we started a roadshow where we provide copies of our finalised ten page comprehensive newsagent EDI Action Plan free to all attendees.
The Action Plan is more than words on a page.  It is backed with face to face training in our current user meeting tour, online training through our Online Training Academy, help desk support through our national help desk and intervention through our event driven intervention program when we become aware of a newsagent not transacting in a way which meets EDI standards.
The value of EDI compliance for newsagents is considerable: faster credits for returns, fewer out-of-stocks, time saved on receiving magazine stock, time saved on physical processing of returns, and, usually more equitable magazine supply.  These benefits represent money in the bank.
We understand the benefits because we own and operate several newsagencies.
Our attention on EDI compliance and the new XchangeIT platform requirements and opportunities has been consistent from the outset.  This is another area in which we are different.  Our consistency comes from working closely with the drivers of the new XchangeIT platform and our commitment to Tower Newsagents – the largest single newsagent community in the country.
This is all part of the exclusive Tower Advantage TM program.