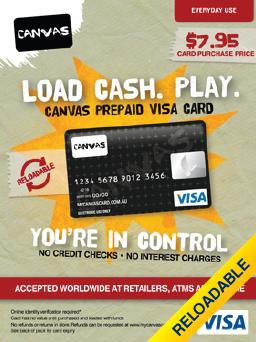 More newsagents are taking on the prepaid Visa produce we offer exclusively through our point of sale software – and making good money.
The Canvas card is one of the prepaid Visa cards supported exclusively through our software.  It is reloadable, easy to sell and easy for customers to use.  Newsagents make $2.75 commission for every reload, pay only for what is sold, no upfront cost to stock, get recognised as a Visa Prepaid retailer, get listed on the prepaid Visa websites.  Most important of all, there are no long term contracts.
The value of being listed on the website was recognised by one of our customers, Mandy from Austin Knox: The Visa Prepaid Cards have brought in new customers who found our store via the CANVAS card website.