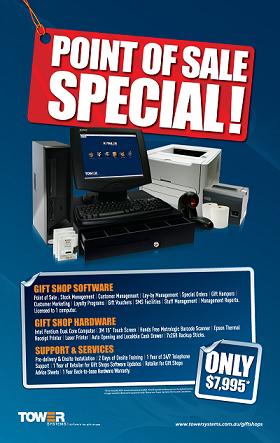 We have released new marketing collateral for our gift shop and homewares software to coincide with the two gift related trade shows in Brisbane and Sydney starting this weekend.
The new collateral includes the new design poster to the left – pitching our gift shop software, hardware, installation, training and support package for $7,995 including GST.  This is a very popular package with gift shops as it provides a low-cost entry point.
The gift shop software package includes: point of sale, lay-by, loyalty marketing, hamper management, gift cards, integrated eftpos, stock reordering and business reporting. Fror customers we provide professional receipts,  account management and the ability to answer queries quickly.
Our gift shop software has been developed specifically to serve the needs of Australian gift shops and homewares retailers.  We understand that we have more gift shops using our software than any other specialist software.
We are proud of our new collateral.  It speaks to key traits of our business of which we are proud: strength, consistency, trustworthiness and value.