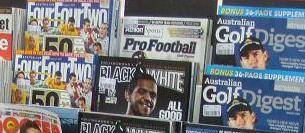 We helped a Tower Newsagent sell their newsagency recently by providing a better understanding of the performance of the business than a P&L can provide.  We demonstrated the control over the business and the processes which make the newsagency more manageable that it appears.
Some potential newsagency purchasers walk away for fear that the business is too complex for them to understand and manage. Through our reports and presentation, we are able to demonstrate the business control which can be achieved through engagement with our software.  This provides comfort and has been found to enable negotiations to proceed to the next level.
Being newsagents ourselves, we are able to go behind the technical aspects of the software and provide implementation suggestions based on what we have seen work in our thirteen years of owning a newsagency.
Since new owners of newsagencies using our software are provided free training, there is a confidence that we are able to help them hit the ground running than if they had to learn for themselves.  The free training is often provided prior to take-over.
Whereas many newsagents use their point of sale systems as a glorified cash register, we can help a newsagent prepare the business for sale so as to ensure that it is easier to run and therefore more interesting to those in the market to purchase a newsagency.