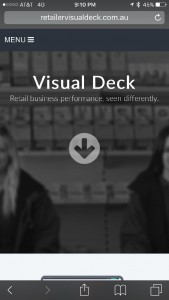 POS software company Tower Systems is proud to announce the release last week of a new software platform for small business retailers.
This new platform is a completely new product from the Tower development team. It leveraged data cultivated by the Tower Point of Sale software and makes it available anywhere, in a stimulating visual form and in a way than encourages the discovery of business performance insights.
Introducing The Visual Deck.
Retail business performance, seen differently.
The Visual Deck is a platform through which you can see the performance of your business, visually. Graphs replace reports, making trends obvious and a path ahead clearer to follow. Graphs that change with time and through which you can dive deeper into what is happening in your business.
Why did we call it the Visual deck? It is visual because, well, your business data is presented in a visual way. It is a deck because it is a platform off of which you can see far and wide. It is a perfect place to see what you cannot see when you are on the ground.
Retailers can access the Visual deck from anywhere, anytime, and through this access their business data in a way not previously accessible ninth small business retail world. You can compare periods, graph using a broad selection of formats, dive deep into the data as well as focus on data points that matter including transactions, revenue, grow profit and more.
Better still, the visual insights can easily be shared with colleagues.
The Retail Visual Deck is a fresh approach to sharing business intelligence and business performance insights with small business retailers. It is mass retailer computing in a small business retailer's hands. This is the tool join which you can rely to grow your business.
This is 100% Tower Systems innovation.
Having been tested with data from a range of businesses and trialled for months on many different platforms, the Visual deck is ready for small business retailers to engage, to use it to better manage and grow their businesses.
Footnote: If things go as usual, at least on competitor will claim they had this before us and that we copied them. Such a claim is not true. Prior to our launched last week we checked all our competitors in each specialty marketplace in which we live and not one has a product like this.