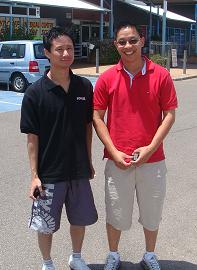 Jason Leung and Luke La from the Tower Systems Brisbane office joined me in Darwin yesterday for a business development discussion and a user meeting with Tower Newsagents. We have good user coverage in Darwin.
We enjoyed catching up with people at the meeting as well as in their businesses. Jason and Luke also delivered some one on one training in-store for some of our users. We make sure that we get to Darwin as part of our national user meeting cycle.
Jason and Luke were smart and dressed for the weather. Darwin is one of those cities where comfort is more important than look if you are out of air conditioned buildings.