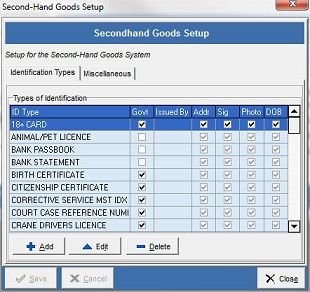 Thanks to the secondhand goods facilities in our Point of Sale software, retailers who deal in secondhand goods are able to track purchases and sales of all secondhand items. We meet the data gathering and reporting requirements of the New South Wales police.  We do this with great care over gathering appropriate data to ensure accurate record keeping and reporting.
Secondhand goods stores tend to get busy after Christmas, making the next couple of weeks busy for users of our secondhand goods software. Using software to tracking especially the purchasing of secondhand goods is vital for retailers keen for accurate record keeping which follows the rules.
In developing our new Second-hand Goods Software, we ensured that we delivered flexibility to meet the tracking, reporting and other business requirements of our existing customers trading in second-hand goods and those we would like to welcome to our customer community.  We also ensured that we met the legal reporting and tracking requirements for dealing in second-hand goods.
The result is software for the professional second-hand goods business, regardless of whether they operate solely in this space or whether second-hand goods are just part of their portfolio of products and services on offer.