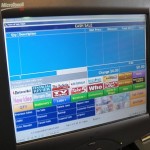 Thanks to the flexibility of our Point of Sale screen layout controls, newsagents using our newsagency software are able to create a touch screen layout which best suits their specific needs.
The photo shows one layout used by newsagents in New South Wales.  You can see hot buttons for specific products. Pressing these captures the sale of the latest edition of the newspaper or magazine.  Newsagents can press the button or scan the item.
The layout management facilities in our software give newsagents excellent control over the layout of the Point of Sale screen.  This personalisation helps boost productivity and drive ownership of the Point of Sale screen by all who work in the business.  Being touch screen enabled, retailers are able to complete sales with a minimum of keystrokes and with excellent accuracy.