VEND POS software reported customer, product and sales related search problems on their product status page over the last 24 hours, impacting retail businesses using their POS software. The situation is a reminder of a challenge for cloud based POS software. If the platform is down or experiencing an issue, all customers on the cloud based POS software platform experience the issue.
Here is the information from the VEND cloud POS software website about the recent issues: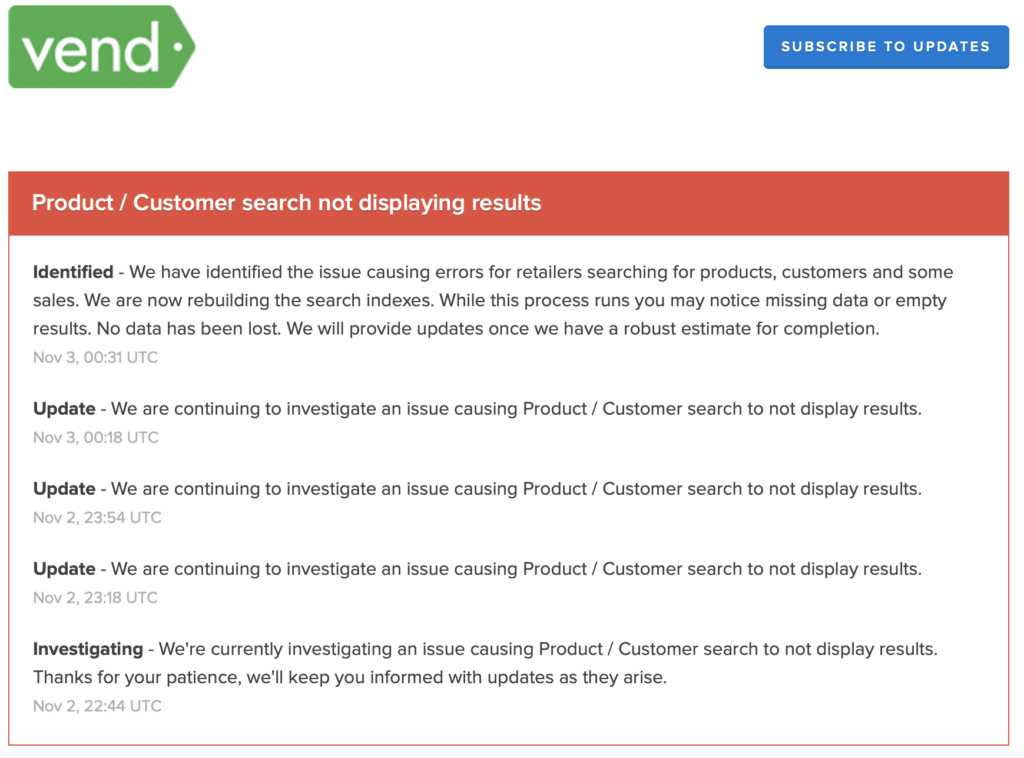 While our Tower Systems POS Software can be run in the cloud and is used in the cloud by a bunch of our retailer customers, the majority of our small business retailer customers choose the in-house desktop hosted option, running in their business, 100% under their control. This approach contains any problem to their business in most situations.
While, for many, the benefit of centrally managed cloud hosted POS software is appealing, the risk of network wide outage is challenging. The cost of not being able to search customers or inventory or some sales could be detrimental to a business.
VEND reported another problem to its network a month ago, on Facebook:
It is important that small business retailers weigh up the risks to their businesses when considering cloud hosted POS or desktop POS. We serve either. VEND is a cloud based solution and that's why the outage reported by them is one that it drawing attention today.
We wish the folks at VEND all the best to resolve the issue in a timely and complete manner. No software company wants to see another software company dealing with tech challenges that are impacting customer businesses, especially the businesses that may be vulnerable or businesses just recently coming out of Covid lockdown.
When we read of the VEND cloud POS tech challenges and the outages being experienced today with customer and stock searches and some sales searches, we took this as a reminder to look at our processes, our checks and balances, our platforms and the redundancy we offer our customers. It is a reminder to all of us to ensure that we actively help our customers run stable businesses using our tech with the least possible downtime.
Operating in a purely cloud hosted environment does put a business at risk, it makes them dependent on their provider to have processes and redundancies in place to serve their needs. This is critical in service of stable and interruption free trading.
If a retailer asks our opinion – cloud hosted POS or in-house desktop hosted POS, we share that we have ourselves run shops with our POS 100% in the cloud and we have run shops with our POS software 100% in-store, on the desktop. For a whole bunch of reasons, today we choose in-house. We like the control it provides and that we are not reliant on the internet and the infrastructure of others to keep the POS software accessible to us.