Using our POS software it is easy for retailers to sell bundled gifts at Christmas time and any time of the year. Our POS software makes it easy to bundle multiple items together for single scan selling. This can be done in-store as well as online though a Shopify website or a Magento website.
Take this Christmas Beanie Boo pack: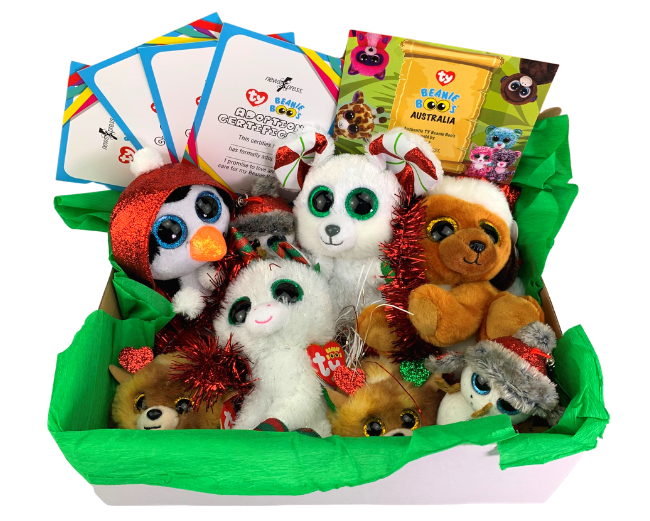 This is a special pack of 8 Christmas Beanie Boo stock items bundled together with several special freebies thrown in, put together in a special pack with some Christmas cheer tissue and tinsel and delivered anywhere in Australia for $64.99.
Online, a bundle like this plays well in that with a couple of clicks, a Christmas gift for a child, niece, nephew, related family or the child of a friend can be handled. Shopping is easy and fast and the purchase is presented in a nice way ready for giving.
Better still, a bundle like this makes price comparison hard because of the various items in the pack and because of the freebies included, which while free, have value to the recipient.
Packs like this can change shopper perspective and this can help drive sales.
Using our POS software, local retailers can easily bundle items for in-store and online sales and through these cleverly differentiate their businesses.
Through our work with local retailers we provide advice on how to use the POS software to create the bundle and how, with one click, to have its details and image loaded onto a website for easy online sales.
In the bundled product space this is where online can be particularly helpful as this is where time poor shoppers shop, especially late at night. having an appealing mix in a bindle for easy purchase can drive terrific incremental business. Key is finding ways to add value to the bundle that help you to differentiate your offer from the offer of others.
As retailers ourselves, we bring to the conversation about using POS software in local retail to sell bundled gift packs real life experience and knowledge and through this to help retailers make the most of the opportunity. We willingly share our knowledge and experience to help retailers in our community to make more informed business decisions.