It is easy for employees in a local retail business to think the owners are rich if all they have to go off is the money paid by customers to the business. In this article, we share an an approach on how a local retail business can better inform employees. Here is an information sheet we have seen work well in the back room of a shop as it explains each dollar.
WHERE THE MONEY GOES
Where every dollar we get from our customers goes.
Every dollar paid to us by our customers and put in the til or through the credit card terminals gores somewhere and quickly. Some of it goes right away, some of it in a few days and most of the rest by the end of the month.
Some of the money we are paid goes before we get it – like for stock we pay for before it arrives in the shop.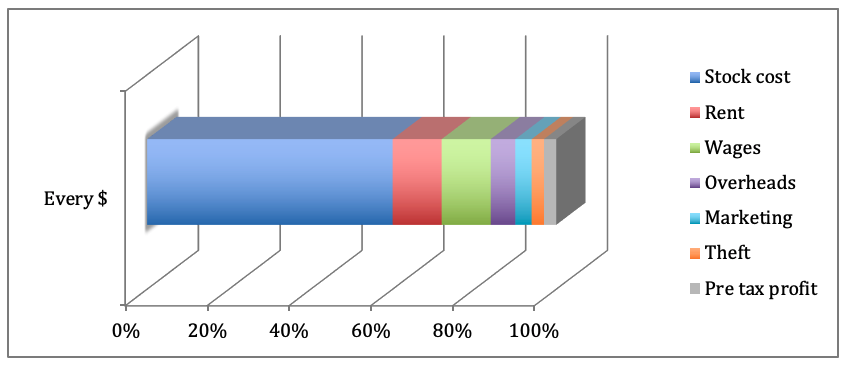 This graph shows where every cent of every dollar we earn goes.  The stock cost is the average cost of items we purchase. Some items cost us 90% of what we sell them for while others cost us 20% of what we sell them for. This is why we are using the overall business average for this illustration.
Based on our current numbers our profit is 4%. But we don't get to keep that: we have borrowings to service, we don't receive a salary for our time and any profit is taxed by the government.
We buy stock for the best price possible but with the price of many products we sell controlled we need to work elsewhere to improve things. This is why we look carefully at the roster. Even one hour saved can be like selling $100 in stock.
The best way to help the business achieve better results is for us to sell more of our stock to existing customers and for us to attract new customers.
We'd love your help in encouraging customers to buy more. You can do this with excellent displays, helping customers on the shop floor and giving customers awesome customer service.
We'd also love your ideas on attracting more shoppers.
Please don't think we're putting this notice up to cry poor. We share the information to give you a better understanding of what happens to each dollar we get from our customers because we believe that the more information anyone has the more informed their actions can be.